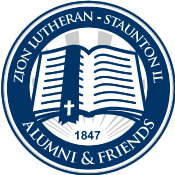 Zion Lutheran
Alumni & Friends
"Train a child in the way he should go, and when
he is old he will not turn from it."
~
Proverbs 22:6
YOU CAN MAKE A DIFFERENCE, YOU CAN HELP!
Becoming a Member
It's easy to become a member of Zion's Alumni and Friends. Download the form below and mail it back to Zion Lutheran School with your yearly due of $15.00. After your form is processed your membership will be in full effect. Quarterly newsletters and updates on alumni events will begin to stream to you electronically. Your support is greatly appreciated. Thank you!
Download Your Membership Form Here
Thank You for Becoming a Member of Zion Alumni & Friends!