Festival of Trees
Saturday, Dec. 4th, 2021
Join Zion Lutheran in spreading holiday cheer by participating in a tree decorating contest! Contest Rules:
You MUST provide your own Christmas tree. It may be any size, but it MUST be artificial!
You will be provided with a 6 foot space to decorate
Decorate your tree/space following the theme of Walking in a Winter Wonderland
No lights may be used on the trees
We encourage classrooms, nursing homes, assisted living centers, youth groups, scouts and other organizations to make homemade ornaments to decorate their trees
You will need to set up your tree on Friday, Dec. 3 from 5-6 pm or 7:30-8:30 pm.
The community will be invited to come to Zion during the Christmas Walk on December 4 and vote on their favorite tree. It will cost $1 per vote. (Proceeds will benefit Zion Youth Group)
Gift certificates will be awarded for 1st, 2nd, and 3rd places
You may pick up your trees and all decorating materials on Saturday between 2:30 - 3:30 pm.
Please RSVP to Kristi.Cook@zion-school.org if your organization would like to participate!
Zion's Community Fundraiser
In an effort to help the community, Zion Lutheran is selling shirts as a fundraiser. 100% of proceeds from the shirt profits are being used to purchase gift cards from local restaurants. These gift cards will then be given to our community front line workers including employees at our hospital, doctor's offices, senior living residences, and first responders...
Youth Group Fundraisers
Christmas Quilt Raffle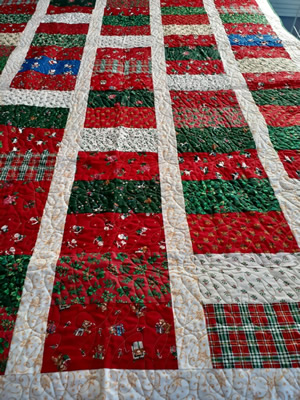 Youth group is selling raffle tickets for a Christmas quilt. Tickets are 1 for $5 or 3 for $10. You can purchase tickets from a youth group member or the church/school office...The drawing will be held on Saturday, December 4.
Chick-fil-A Sandwich Sales at Christmas Walk
Youth group will be selling Chick-fil-A sandwiches at the Christmas Walk on Saturday, December 4. We will be set up in front of City Hall AND in front of Zion. The eighth grade class will be selling chips and drinks to raise money for the 8th grade trip next summer. Come visit us before or after you see Santa and support the youth group and 8th graders by buying some yummy sandwiches! Please help us determine how many sandwiches to order by pre-ordering the number of sandwiches you would like to purchase. All pre-ordered sandwiches should be picked up from Zion. Sandwiches will be sold for $6 each or combos with chips and a drink for $8. Please email Kristi.Cook@zion-school.org.
Private Prayer & Sacrament
Due to public worship on hold, private prayer and sacrament with the pastor will be made available by appointment during these hours:
| | | |
| --- | --- | --- |
| Wednesdays | 10-12am, | 4-8pm |
| Thursday | 10-12am, | 4-6pm |
| Sundays | 4-7pm | |
The morning sessions will be offered in pastor's office in the parish center. Afternoon and evening sessions will be located in the sanctuary. Assisting the afternoon and evening sessions will be one of our Zion elders. Members interested in meeting with pastor should call the church office or pastor in advance to be scheduled.
The situation of this epidemic is dynamic; new announcements, new changes continue to unfold far beyond even our imagination. Yet our confidence is in our gracious and loving God. His promise given in Psalm 91 to all who abide in Him is to keep you in all your ways. By the Spirit's guidance, our careful, wise thinking and decisions mindful of the best care of our congregation's members, the ministry of Zion Lutheran will be served well in the coming days. To God be the Glory!
~ Pastor Kelly G Mitteis, Zion Board of Elders, Administrative Council of Zion
Verse of the Day