2017 Vacation Bible School - DIVE IN!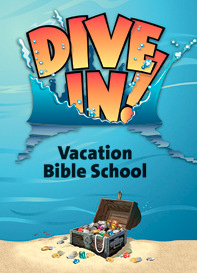 June 12th through 16th
This year's Vacation Bible School will be June 12 - 16 for students entering Preschool through 5th grade. This year's theme is DIVE IN! At DIVE IN, we will explore under the sea to learn new things about God's incredible sea creatures (like the black dragonfish, porcupine fish, sand dollar, sea anemone, and dolphin). The characteristics of these animals will help students make visual connections to the main points of the Bible lessons. All students are welcome! Interactive activities, theme-related crafts, music and snacks are also part of this exciting program. Each day will begin with our gathering at 9:00 in the gym until 11:30 with dismissal.
Want to help volunteer? Contact the church office for more information to learn how you can help support this year's VBS.
Church picnic & Outdoor Service
June 11th, 2017 - Fireman's Park
Zion will hold its annual outdoor church service and picnic at Fireman's Park on Sunday, June 11, 2017. The worship service will begin at 10:00 a.m. Please bring a lawn chair for the service. The E Street Band will provide music for our worship service. A potluck meal will follow the service. Hamburgers, hot dogs, and bratwurst will be provided by the Men's Club and Board of Evangelism. Each family attending is asked to bring a side dish and/or dessert to share. Table service and drinks will be provided. A time of fun and fellowship will also take place following the potluck. The Board of Stewardship will be sponsoring lawn games along with a softball game. Please bring a baseball glove if you plan to play softball.