170th Anninversary Celebration
November 5th, 2017
Come help us celebrate and thank God for 170 years of blessings at Zion! Join us for a special celebratory service with guest speakers on Sunday, November 5. A meal will follow with meat, dessert, and drinks provided. Please bring a side dish to share. Pastor Doug Meyer will be preaching. Join us after the service for a meal, a short program with special music, and German from Reverend Schrader. RSVP by October 20 to the church office or email rsvp@zion- school.org. Please include your name and the number of people attending.
Zion Lutheran Church and School is seeking photos for the 170th anniversary celebration. We will scan your photo and return it to you! To assist, please include any info about the photo that you can. View October's Messenger for more information.
Trunk Or Treat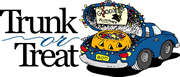 October 29th, 2017
Zion's Trunk or Treat will be held on the blacktop behind the school from 4:00pm-6:00pm. Volunteers are needed to decorate their cars and pass out candy! If you would like to enter your car, please contact the school office to find out how. Cars will enter the lot between 3:15 p.m. and 3:45 p.m. to set up and be ready for trick-or-treaters to enter at 4:00 p.m. If wish to donate candy, please drop it off at the daycare or church office. We are looking forward to another great event involving our church family and the community!
We encourage all trick-or-treaters to bring a non-perishable food item or personal care product and help fill a trunk. We will be "tricking" hunger and "treating" the food pantry. We look forward to making this a great event for Zion and the Staunton community.
Zion Lutheran 26th Annual Dinner Auction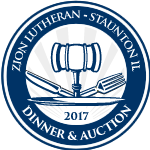 November 18th, 2017
The 26th Annual Zion Lutheran School PTL Dinner Auction will be held on Saturday, November 18, at the Crystal Ballroom. Doors open at 4:00 pm beginning with the silent auction which will run throughout the evening. Dinner, catered by R & Bís, will be served buffet style from 5:00 - 7:00 pm. Beginning at 7:15 pm, the oral auction will include plenty of great Christmas gift ideas for everyone in the family. Adult Tickets are $20.00 each and children grade 8 and under are $10 each which includes dinner, drinks, and auction admission. Children 3 and under are free. You may also buy and reserve a table of 8 for $140. Tickets may be purchased at the church or school office or by contacting Kim Meyer at618-223-9253. Please come support the PTL and start your Christmas shopping early by attending our 26th annual Dinner Auction!
Volunteers Needed: If you want to participate yourself or your business in this year's auction, contact Jamie Crouch to find out how you can help!