Zion Lutheran 26th Annual Dinner Auction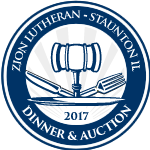 November 18th, 2017
The 26th Annual Zion Lutheran School PTL Dinner Auction will be held on Saturday, November 18, at the Crystal Ballroom. Doors open at 4:00 pm beginning with the silent auction which will run throughout the evening. Dinner, catered by R & Bís, will be served buffet style from 5:00 - 7:00 pm. Beginning at 7:15 pm, the oral auction will include plenty of great Christmas gift ideas for everyone in the family. Adult Tickets are $20.00 each and children grade 8 and under are $10 each which includes dinner, drinks, and auction admission. Children 3 and under are free. You may also buy and reserve a table of 8 for $140. Tickets may be purchased at the church or school office or by contacting Kim Meyer at618-223-9253. Please come support the PTL and start your Christmas shopping early by attending our 26th annual Dinner Auction!
Volunteers Needed: If you want to participate yourself or your business in this year's auction, contact Jamie Crouch to find out how you can help!
Saturday Night Service Time Change
Starting
November 4th, 2017
, Zion Lutheran Church Saturday Services will begin at
5:00pm
instead of 6:00pm. Service Settings will still remain the same for both Saturday & Sunday Services (except for special dates or events). This time change for Saturday services will continue through February 2018.