Zion Lutheran School - News & Events
---
National Lutheran Schools Week (NLSW)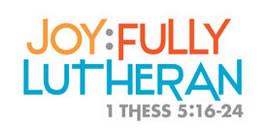 JANUARY 27 – 31
This year's theme is Joy:Fully Lutheran (1 Thess. 5:16-24)
National Lutheran Schools Week provides our network of nearly 2,000 LCMS preschools, elementary schools and high schools with the public opportunity to proclaim and celebrate God's work among us in Lutheran schools. We thank God for the opportunity to provide excellent academic preparation for the children we serve. (www.lcms.org/lutheranschoolsweek).
NLSW Activities
Monday
- Pajama & Stuffed Animal Day, afternoon movie w/ Popcorn
Tuesday
- Wear your Favorite Sports Team apparel
Wednesday
- 100th Day of School - afternoon activities in the gym
Thursday
- Zion Shirt Day (or Zion blue and white) (K – 8th Bowling at SIUE and Lunch out)
Friday
- Crazy Hair and/or Crazy Sock Day

Throughout NLSW, we will have a weeklong change drive to benefit the Helping Hands Center:
Monday – pennies, Tuesday – nickels, Wednesday – dimes, Thursday – quarters, Friday – dollars and/or any coins.
Basketball 8th Grade Night Rescheduled
January 27th, 2020
8th Grade night for Ethan and Claire has been rescheduled for Monday, Jan. 27, between the boys' games. We hope you can join us to celebrate Ethan and Claire!
C Team Tournament - Feb. 13th-16th
Mark your calendars! The Zion Lutheran School 39th Annual C Team Basketball Tournament is quickly approaching! This year's tournament will be held February 13-16.
PTL Trivia Night! - February 29th
Zion PTL will host their annual trivia night on Saturday, February 29 (Leap Year!), at 7:00 pm at Concordia Hall in Staunton. Doors will open at 6:00 pm. Teams of six to eight people may enter. The entry fee is $15.00 per person, which includes admission and unlimited soft drinks and bottled water. For questions or to reserve your table, please call or email Jessica Meade (618-635-3060 or jessica.meade@zionschool. org).
Start getting your team together, gather up your favorite snacks, and get ready for a fun evening of trivia. We hope to see you and your team at Trivia Night!
Grandparents Day - March 6th
Grandparents Day will be Friday, March 6, 2020. Please let your child's grandparents know to mark their calendars to join their grandchildren at school that day! More information about the times for the day's events will follow in the upcoming weeks.
From the Desk of the Prinicpal
12/20/2019
Read the End First
Well, if you have read the title literally, you're getting to this part about a third of the way through this sitting. That wasn't my point, but it works. My old friend, Pastor Leon Jameson, titled his Advent sermon series this year, "Born to Die." It is a fitting title and makes me reflect back to when I was a youth counselor for our youth group at Immanuel Lutheran Church in Temple, Texas. I know it is not a typical reference during the Christmas season, but I remember sitting in the theater on opening night of "The Passion of Christ."
I was parked in a middle seat of our row. The story had progressed to the garden scene. The student next to me was a sophomore in high school and she was an honor student. She was pulled into the scene emotionally. I tried to diffuse the tense moment by whispering, "This is when Judas kisses him on the cheek." Startled, she asks, "How do you know, it is opening night?" I responded, "I've read the book." She, still taken by the moment responded inquisitively, "There's a book?" The chuckle from her fellow youth group members when she realized that I was referencing the Bible helped diffuse the tension.
The story doesn't change. It never will. It is about love. It is about giving. It is about sacrifice. As parents, we never want to see our children suffer. We never want to knowingly place them in "harm's way." But that is the reality of what we celebrate at Christmas. God, out of love, sending his son to suffer and die for you and me is the reason for the season. You can't take Christ out of Christmas and for that, we celebrate. So where does, "read the end first," come in? The answer is simple, but often overlooked. To truly understand the gift in Bethlehem, we must understand the cross and the empty grave. With an understanding of how the story ends, we can appreciate God's Christmas gift to all of us.
As we gather this Christmas, we have a natural, God-given, teachable moment. When we hear, "Wow, look at all of those gifts under the tree," it is a perfect segway to reminding those around us (many who have never heard the story or made the correlation), that the ultimate gift isn't under a tree, but hung on a tree one that Friday (Good Friday). God's gift was born in human flesh (100% God and 100% man) in Bethlehem on that first Christmas. That gift culminated on the cross.
As always, if you need family devotional materials for the break, don't hesitate to contact me. May your Christmas be Merry and Bright as your reflect the love of Christ!
In Christ, Mr. Manning
Congratulations Lady Panthers!
Congratulations to the A team volleyball players on being Lutheran Conference Small School Champions and placing 4th in the Lutheran Conference overall. God's blessings and good luck to the players next weekend (Nov. 1 – 3) as they compete in the State Volleyball Tournament in Springfield.
Go Panthers!
Congratulations Zion Baseball Team!
2nd Place, Lutheran Conference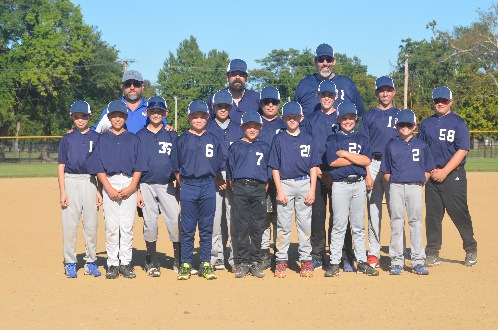 Congratulations to the small schools boys baseball team on their 2nd place finish in the Lutheran Conference!! We are so proud of our Zion team members: Ethan Rantanen, Ethan Sharp, Zander Machota, and Braden Pfeiffer. Congratulations also to Mr. Manning and Mr. Secoy on a great season! Pictured is the whole team (including players from Prairietown and Litchfield).
Desks for Sale
Zion Lutheran School is selling desks that are no longer needed in our classrooms... Some of these are like new and are first come, first served. These retail new at over $250 each but are available for $50 each through Zion. Please email david.manning@zion-school.org if you would like to arrange a viewing or purchase. There is no limit to the number you can purchase.
View Latest
Panther Paws
1/24/2020
Log in to Ren Web

Upcoming Events at Zion Lutheran School
1/27-1/31 - NLSW
2/9/20 - Sausage Supper
2/13-16/20 - C Team Tourney
2/24-28/20 -IOWA Testing
2/29/20 - PTL Trivia Night
3/2-6/20 - Book Fair
3/6/20 - Grandparents Day
This week at Zion Lutheran School
BB 8th Grade Night Rescheduled to Monday 1/27
BB at Home vs. Unity Boys D 5:00
BB at Home vs. Unity Boys A 6:00
BB at Home vs. Bethalto Boys D 6:00
BB at Home vs. Bethalto Boys A 7:00
8th Grade Night
Asian Bistro Fundraiser Day
BB Boys Conference at Good Shepherd vs. Unity Boys A 6:00
Bowling Field Trip to SIUE