Zion Lutheran School - News & Events
---
Madison Teacher of the Year Contest
Congratulations to the following Zion faculty members on their
nominations for Madison Teacher of the Year: Mrs. Kleckner, Mrs. Brackman, Mrs. Mosser, Mr. Secoy, and Mrs. Mitteis!
Please visit the Madison Communications website to read the wonderful comments written about our teachers! Voting began April 1 and continues throughout the month. The three winners of the contest will each receive a $500 award, a recognition plaque, and a pizza party for their class. Please visit
gomadison.com/promotions/teacheroftheyear
and vote for your favorite teacher!
Zion C Team Basketball Tournament Update
Congratulations Zion Panthers!
Congratulations to the boys basketball team on their 3rd place win at our tournament last weekend! The boys and coaches are pictured with their trophy after their win against Trinity, Edwardsville on Sunday.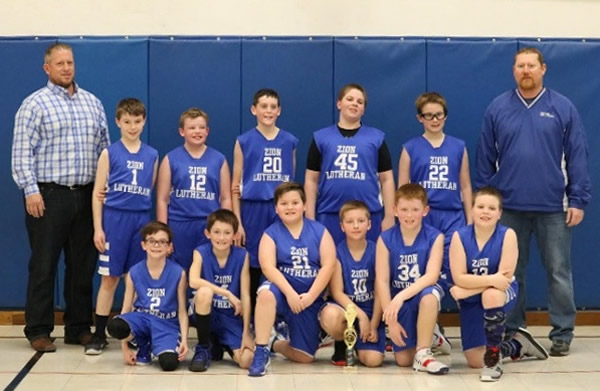 Thank you so much to everyone who helped in any way at the basketball tournament last weekend. We appreciate everyone's help in making the tournament a fun and successful weekend for the athletic program!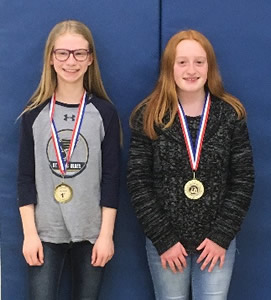 Ava Fernandez(L) & Adrienne Meade(R), Winners in the Macoupin County Spelling Bee!
Macoupin County Spelling Bee Winners
Congratulations to 6th grader, Ava Fernandez, on her 1st place win and congratulations also to 7th grader, Adrienne Meade, on her 2nd place win at the Macoupin County Spelling Bee!
Way to go, Ava and Adrienne!
Track Meeting & Track Dates
The track coaches will hold an informational meeting for all interested 4th – 8th grade students on Thursday, March 14, at 3:15 pm. If you cannot attend, please contact Mrs. Mosser. The scheduled track meets for this spring are listed below: (others may be added as the season progresses)
April 13 – Good Shepherd Track Meet
April 27 – Zion Belleville Track Meet
April 30 – Conference Track Meet at Edwardsville HS
May 3 – Conference Relay Track Meet at Edwardsville HS
May 11 – District Track Meet at Freeburg HS
May 18 – State Track Meet in Chicago
Important Dates for April & May 2019
The track coaches will hold an informational meeting for all interested 4th – 8th grade students on Thursday, March 14, at 3:15 pm. If you cannot attend, please contact Mrs. Mosser. The scheduled track meets for this spring are listed below: (others may be added as the season progresses)
April 5 - Red Cross Blood Drive (3:00 – 7:00 pm)
April 7 - Praise Him Choir Sings at 10:30 am
April 8 - Preschool Registration (6:00 – 7:30 pm)
April 8-12 - Week of the Young Child
April 12 - Zion Family Prom (6:30 – 9:00 pm)
April 17 - 1:45 Early Dismissal
April 18-22 - No School Easter Break
April 28 - Zion Teacher Recognition at 10:30 am
April 28 - Junior High Band Concert at 7:00 pm
April 29 - Summer Daycare Registration (4:00 – 6:00 pm)
May 4/5 - 8th Grade Questioning & Confirmation
May 6-10 - Teacher Appreciation Week
May 8 – Athletic Banquet at 6:30 pm (more info in the coming weeks)
May 19 - PTL Meeting at 6:00
May 20 - Preschool & Kindergarten Graduation at 7:00 pm
May 21 - 8th Grade Graduation at 7:00 pm
May 21 - Last Day of School – 12:00 pm Dismissal – NO BUS SERVICE

From the Desk of the Prinicpal
3/29/2019
On Monday(3/25/19), at 2:51 pm, a vehicle was seen near our playground making an odd U-turn maneuver. Multiple children noticed the driver appeared to be videotaping or photographing using a cell phone. A staff member on duty took a photo of the vehicle as it drove away. Unfortunately, the vehicle was too obscured in the photo to identify the plates. The office was immediately notified and the Staunton PD called as a precaution. Officers arrived and I was able to show them the picture of the vehicle and the section of security recordings that showed the vehicle in question. Neither Zion staff, nor the officers, could immediately identify the vehicle or driver.

Afterschool staff was notified of the incident and instructed to call authorities if a vehicle matching the description given was observed. The vehicle did not return.

The next day, handouts were given to staff with the photo of the vehicle and a matching car dealer photo of a similar car. Witnesses were questioned and a student was able to provide a partial of the car's plates. All information gathered was presented to the police. Additional police patrols were made on Tuesday and Wednesday as a precaution.

Wednesday, I received a call from the chief of police. Using all the information gathered, the chief was able to identify the vehicle and driver. The driver was then questioned. It was determined that the driver was photographing local real estate and was not photographing our students or facilities.

With the limited information that we had at the beginning of the investigation, I chose to alert the staff members and the police in an attempt to identify the driver prior to putting information in a public domain. Fortunately, we have closure to this event.

I would like to commend the Chief, his officers, our quick-thinking staff member that got the pic, and the students who gave the information that led to the identification of the driver. We take all threats seriously and act in concert with law enforcement. I would also like to commend our parents for continuing to fund security upgrades, most notably, the new camera system that will be installed soon.

If you have questions, don't hesitate to contact me!

In Christ,
Mr. Manning


PTL Meetings
All meetings are held at 6:00 pm in the school cafeteria. Babysitting is provided by Zion 8th graders. A $25 gift card is given as an attendance prize at each meeting!
This year's meetings are scheduled for: September 16th, November 18th, January 27th, March 17th and May 19th.
Desks for Sale
Zion Lutheran School is selling desks that are no longer needed in our classrooms... Some of these are like new and are first come, first served. These retail new at over $250 each but are available for $50 each through Zion. Please email david.manning@zion-school.org if you would like to arrange a viewing or purchase. There is no limit to the number you can purchase.
View this Week's
Panther Paws
4/17/2019
Log in to Ren Web

Upcoming Events at Zion Lutheran School
4/28/19 - Band Concert
4/29/19 - Summer Daycare Registration
5/4-5/19 - Confirmation
5/8/19 - Athletic Banquet
5/20/19 - PreK/K Graduation
5/21/19 - 8th Grade Graduation
This week at Zion Lutheran School
Maunday Thursday
No School, 7pm Service
Good Friday
No School, 7pm Service
Easter Vigil
Easter Sunday, 6am & 9:30am Services
No School