Zion Lutheran School -
News & Events
---
Pajama Day - Fri., Dec. 3
Wear a Pair/Give a Pair. Our school will be participating in Scholastics Pajama Program this year. The pajama program asks individuals to donate a pair of new pajamas to be given to someone in need while Scholastic donates a book. Several years ago when our school participated in this program our pajamas were donated to a women's shelter in Springfield. Each child who opts to wear their pajamas to school on Friday, December 3 is asked to bring in a new pair of child size pajamas to donate. If you have any questions regarding this program, please contact Mrs. Kleckner.
PTL Christmas Gift Shoppe - Fri., Dec. 3
We know that many students look forward to the Christmas Shoppe. It is a tradition that allows students to select Christmas presents for their family at a reduced cost. It is NOT a fundraiser. It is something PTL does for a service. Our volunteers score for the best prices on items all year round so children can purchase gifts for their loved ones. All gifts are $4 and below.
Items requested are gift bags, large shopping bags to take items home, and gift tags. We also need volunteers! To volunteer, please go to the Sign Up Genius sign up form. The site is: https://www.signupgenius.com/.
The shifts are: Thursday, Dec. 2 – 4:30-8:30pm -Set Up (can come any time during that shift to help) Friday, Dec. 3 -8:00am – 12:00pm- Elf Duty – Need lots of help at this shift helping the younger children shop as gifts for family members are a surpise!
Zion Sports
Boys Basketball
12/04/21
@Belleville, C/D teams (See Panther Paws Newsletter Attachments!)
12/10/21
Bethalto, D/A teams
12/13/21
Edwardsville, D/A teams
Girls Basketball
12/3-5/21
Trinity Edwardsville Tip-Off A Team Tourn. (See Panther Paws Newsletter Attachments!)
12/09/21
Litchfield, D/A teams
12/14/21
Bethalto, C/A teams
12/18/21
@Belleville, C team
ZECEC Daycare Rates
Full Time daycare - $130.00 per week. (This includes preschool, daycare and hot lunch.) New Rate Effective-May
Full time means that your child attends daycare Monday-Friday. Parents who choose full time daycare are billed $130.00 per week for the duration of the school year including holidays or days your child does not attend. You will only be allowed one time during the school year to change from full time to part time or part time to full time.
Part time daycare - $30.00 a day for over 4 hours, $15.00 a day for under 4 hours. Lunch and preschool tuition is NOT included in part time daycare rates.
Upcoming Events at ZLS
Pajama Day
PTL Gif Shoppe
Chick fil-A at City Hall and Zion
Festival of Trees at Zion
Live Christmas Nativity 5:30-7:30pm
Blood Drive, 3-7pm
Band Concert
School Christmas Programs
End of First Semester
No School - Winter Holiday
Classes Resume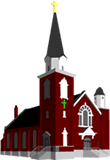 Zion Lutheran Church
311 South Elm Street
Staunton, Illinois