Zion Lutheran School - News & Events
---
Congratulations 8th Graders!
Braeden Michael Alfred Cook
Abigail Joy Lesko
Lexi Michelle Pfeiffer
Taylor Marie Seelbach
God's blessings to you, Braeden, Abi, Lexi, and Taylor, and best of luck in high school.
We will miss you,
~ Your Zion Family
Zion Fish Stand Volunteers Needed!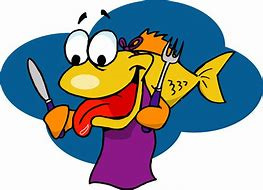 It is that time of year again - time to sign up to work the PTL Fish Stand! Each year the PTL has a stand at the Staunton Fireman's Homecoming. We sell fish sandwiches, fries and onion rings along with soda and water. This year we are adding two fun new items to our menu: chicken strips and fried Oreos! The stand helps raise money for the PTL to use on many important projects throughout the year that benefit your children in so many ways. The stand also helps get our name out in the community. We are in need of workers to help with the stand over the course of the weekend (June 20-24).
It takes ALL of our parents to make this stand possible
…and it's always a fun time had by all! The sign up genius link is:
https://www.signupgenius.com/go/30E0E44A9AA2DABF58-volunteer
. You may also call Amber Ruehrup at 618-779-7282 to sign up for your shift.
Zion Choir to Sing at Busch Stadium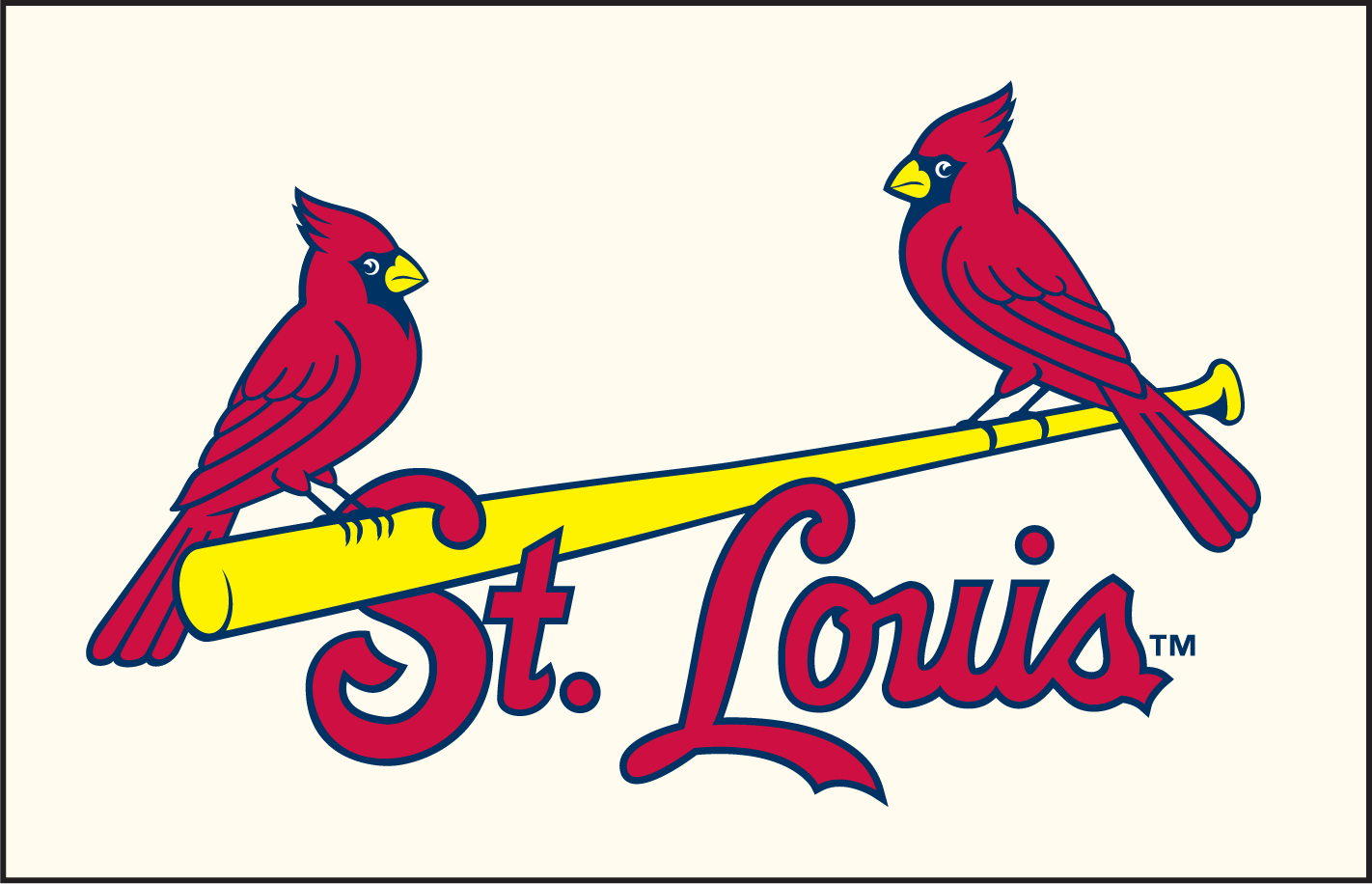 For the second year in a row, Zion Lutheran School is invited to sing at Busch Stadium before a Cardinals game! Zion students will be sing "God Bless America" on the field before the game on Saturday, August 31. Game is at 6:15 p.m. on Saturday, August 31. We will be sitting in sections 128B and 129B. These tickets normally have a face value of $60, but we will be selling tickets for $25 each (children under 4 do not require a ticket). Please share this information with family and friends! We hope many of you will be able to join us for a fun evening at the ballpark! Please contact the school office to purchase tickets!
Summer Calendar of Events
Jun 3 - Dairy Queen Night
Jun 15 - Mt. Olive Parade
Jun 21 - 23 Fish Stand
Jun 23 - Staunton Parade
Jul 1 - Dairy Queen Night
Jul 21 - PTL Meeting
Jul 22-26 - Vacation Bible School
Aug 1-2 - Registration
Aug 5 - Dairy Queen Night
Aug 12 - Open House
Aug 14 - First Day of School
Aug 24 - Zion Golf Tournament
Aug 31 - Zion Night at the Ballpark

Summer Parade Information
Zion will participate in two summer parades - Mt. Olive on June 15th (6:00 pm) and Staunton on June 23rd (4:00 pm). We like to have as many parents and students as possible attend these parades to help spread the news about Zion! Just like last year, we will have a truck for younger students to ride in and will need older students and parents to walk, carry banners, and pass out candy and Zion items. More information will be shared as the dates get closer. We hope many of you will join us for the parades!
Zion C Team Basketball Tournament Update
Congratulations Zion Panthers!
Congratulations to the boys basketball team on their 3rd place win at our tournament last weekend! The boys and coaches are pictured with their trophy after their win against Trinity, Edwardsville on Sunday.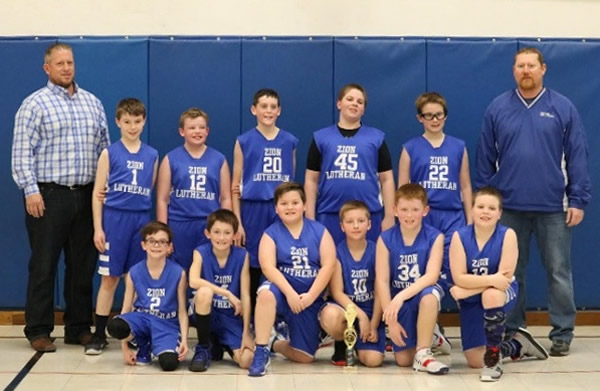 Thank you so much to everyone who helped in any way at the basketball tournament last weekend. We appreciate everyone's help in making the tournament a fun and successful weekend for the athletic program!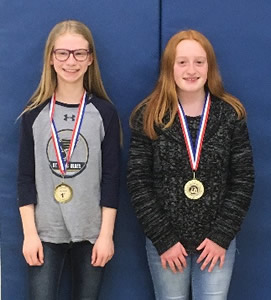 Ava Fernandez(L) & Adrienne Meade(R), Winners in the Macoupin County Spelling Bee!
Macoupin County Spelling Bee Winners
Congratulations to 6th grader, Ava Fernandez, on her 1st place win and congratulations also to 7th grader, Adrienne Meade, on her 2nd place win at the Macoupin County Spelling Bee!
Way to go, Ava and Adrienne!
From the Desk of the Prinicpal
5/17/2019
Real, Present God... It is time for the last newsletter of the 2018-19 school year. It is amazing to think that another year is in the books. Thursday was the last day of Lilly's (my daughter) first year here. I took the obligatory picture by the Zion Lutheran School sign to show how much she has grown this year. When we think of growth, it is often in relation to size. Kids have physical growth spurts that are amazing to witness. There are times that we come back from Christmas break and I'll notice a child has grown about an inch!
What is harder to see is academic growth. Is my child ready? Is my child prepared for the next step in their academic career? We assess to continually monitor academic growth. Other than the height weight chart maintained by your child's pediatrician, test scores are the easiest growth to chart. But, at Zion, we exist for more than academic growth. We are here to nurture spiritual growth as well. What would that test look like? Would it be like a catechumen's questioning? Would it be a measure of the fruits of the spirit? Would it be a Likert scale with the categories; love, joy, peace, patience, kindness, goodness, faithfulness, gentleness, and self-control? (Galations 5:22)
Our God is real. He is present. We pray that we reflect his love daily.
This summer will be packed with work. First, we have physical upgrades to the facility.
New Playground Fencing
Revamped playground play space
Painting
Wiring

Then, we have curricular improvements.

Lower level science is high on our priority list. We have staffing changes.
Most noticeably, the calling of a new lead pastor as pastor transitions to retirement.
Please keep praying for us at Zion. We thank you for another beautiful year.
In Christ,
Mr. Manning
Desks for Sale
Zion Lutheran School is selling desks that are no longer needed in our classrooms... Some of these are like new and are first come, first served. These retail new at over $250 each but are available for $50 each through Zion. Please email david.manning@zion-school.org if you would like to arrange a viewing or purchase. There is no limit to the number you can purchase.
View Latest
Panther Paws
05/17/2019
Log in to Ren Web

Upcoming Events at Zion Lutheran School
6/15/19 - Mt. Olive Parade
6/21-23/19 - Fish Stand
6/23/19 - Staunton Parade
7/22-26/19 - VBS
8/1-2/19 - 2019-2020 Registration
8/12/19 - School Open House
8/14/19 - First Day of School
8/24/19 - Zion Golf Tournament
8/31/19 - Zion Sings at Busch