Zion Lutheran School - News & Events
---
Zion C Team Basketball Tournament – Feb. 14-17
The Zion Lutheran School 38th Annual C Team Basketball Tournament is here! The tournament started Thursday and will continue through Sunday. If you will be here working, THANK YOU! If you aren't able to help, please come cheer on our boys and girls teams! The boys play at 7:00 pm tonight and the girls play again at 10:00 am tomorrow, Saturday, Feb. 16th. Good luck to our 4th, 5th, and 6th grade basketball Panthers! Let's have a safe and enjoyable weekend to wrap up the basketball season!

A HUGE thank you to Mr. Brackman for helping us get the gym floor ready for our tournament this weekend. It looks fantastic!! Thank you also to the parents and students who helped clean on Wednesday night to get the school ready for the tournament!

Zion Trivia Night
March 9th, 2019 at Concordia Hall
Zion PTL will host their annual trivia night next Saturday, March 9th, at 7:00 pm at Concordia Hall in Staunton. Doors will open at 6:00 pm.
Teams of six to eight people may enter. Entry fee is $15.00 per person which includes admission and unlimited soft drinks and bottled water throughout the evening.
For questions or to reserve your table, please call or email Jessica Meade (635-3060 or
jessica.meade@zionschool.org
). Get your friends and family together, gather up your favorite snacks, and get ready for a fun evening of trivia! We hope to see you and your team at Zion's trivia night!
Preschool & Kindergarten Open House
March 19th, 7pm

Preschool and Kindergarten Open House will be held on Tuesday, March 19, at 7:00 pm. This open house will be for all incoming preschoolers new to the program and all who are interested in Zion's Kindergarten program. 4 year old preschool registration forms will be sent home with current 3 year olds on March 14 and will be due by April 5. Registration forms for Kindergarten will be available at open house or may be picked up anytime after open house from the school or daycare offices.
From the Desk of the Prinicpal
2/15/2019
Happy weekend to everyone! The C-Team Tournament is underway. Come on out and watch some basketball this weekend!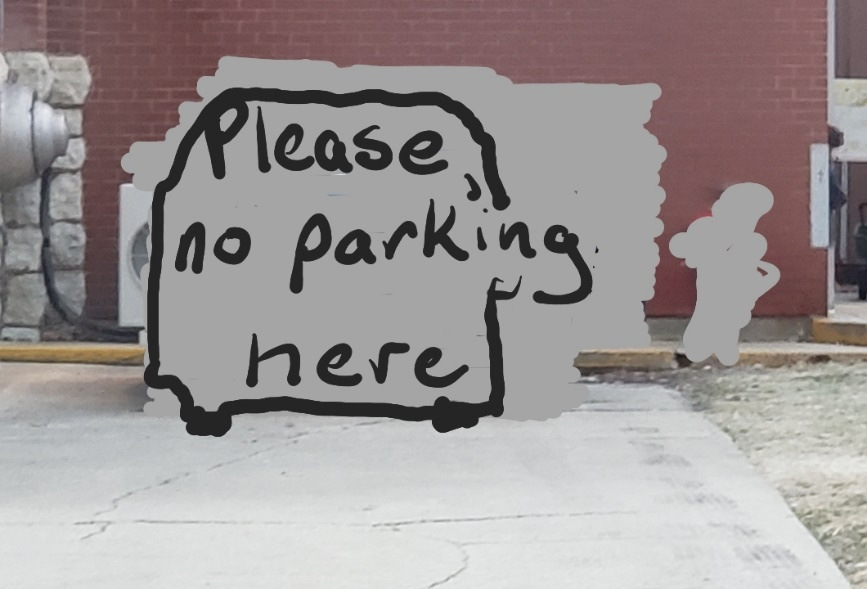 OK... Let's Talk...
I am not writing this to public shame, but I do need to bring something to your attention. It is a safety concern and we are exploring ways to address it. As I mentioned in an earlier newsletter, please do not pull up to the front door of the school using the sidewalk/driveway. This week, on our nice 57 degree day, I was sitting in my truck and watching everything unfold. I love watching drop-off from my truck or "quiet-place," as I call it. A vehicle whipped onto the sidewalk and drove up to the front door. The parent, seemingly hurried, unloaded and hustled into the building. Just as quick as they entered, the driver scurried back to the vehicle, put it in reverse, whipped out onto the road and drove off. To add fury to my frustration, they also did not stop at the T-intersection of Henry. Grrr.
Here is what my mind pictured while I watched that: The beautiful weather inspired one of our in-town students to ride a bike to school. They parked their bike where they should at the racks on the East side of the building and continued to the front door. Just as they come around the Northeast corner of the building, that driver was whipping backwards down the sidewalk. You know what else I pictured? Thankfully, it didn't happen.
Please be careful. Only those drivers with special permission can use the sidewalk. If you don't know if you have special permission, then you don't have it.
A photo of the incident can be seen at the [top] so everyone knows where I am talking about. I've erased the vehicle, driver, and student because as I said earlier, this is for public awareness, not shaming. Have a safe weekend!
In Christ,
Mr. Manning
PTL Meetings
All meetings are held at 6:00 pm in the school cafeteria. Babysitting is provided by Zion 8th graders. A $25 gift card is given as an attendance prize at each meeting!
This year's meetings are scheduled for: September 16th, November 18th, January 27th, March 17th and May 19th.
Desks for Sale
Zion Lutheran School is selling desks that are no longer needed in our classrooms... Some of these are like new and are first come, first served. These retail new at over $250 each but are available for $50 each through Zion. Please email david.manning@zion-school.org if you would like to arrange a viewing or purchase. There is no limit to the number you can purchase.
View this Week's
Panther Paws
2/15/2019
Log in to Ren Web

Upcoming Events at Zion Lutheran School
2/14-17/19 - Zion BB Tourney
2/15/19 - 12:15 Dismissal
2/18/19 - No School
2/19/19 - Girl Scouts Science Fair
2/21/19 - Little Italy's Pizza Night
2/25/19 - IOWA Testing
3/5-8/19 - Scholastic Book Fair
3/8/19 - Grandparents Day
3/9/19 - PTL Trivia Night
3/19/19 - PreK & Kindergarten Open House
This week at Zion Lutheran School
Zion C Team BB Tourney
Zion C Team BB Tourney
Zion C Team BB Tourney
No School
Girl Scout Science Fair
1:00 Spelling Bee in Carlinville (4th – 8th)
Little Italy's Pizza Night
Lunch Menu
---
*Whole wheat bread is available each day as well.