Zion Lutheran School - News & Events
---
PTL Yankee Candle Sale
Zion PTL is selling Yankee Candles! Order forms were sent home last week. All orders and money are due no later than October 15! Orders will be delivered early November. Yankee Candles can also be ordered on-line and shipped directly. Go to
yankeecandlefundraising.com
. Click on the "Seller Login." Our Group Number is 990019677. Checks are to be made out to ZION PTL. Zion earns 40% of the profits from all items sold! If you have any questions, please contact Carol Bond or Jessica in the school office.
Zion Trunk or Treat
October 27th, 2019
Save the Date: ZECEC will once again host a Trunk or Treat event on the back lot of the school on Sunday, October 27. Trunk or Treat will take place from 4-6pm. We are in need of families to enter cars and pass out candy. If you are able to enter a car in our event, please contact Pam Kleckner at 635-2446 ext. 02 or email pam.kleckner@zionschool. org. Cars will need to enter the lot between 3:15pm and 3:45pm to set up and be ready for trick or treaters to enter at 4:00pm. If you are unable to enter a car, but can donate candy for the event, please drop it off at the daycare or church office. We encourage all trick or treaters to bring a non-perishable food item or personal care product and help fill a trunk. We will be "tricking" hunger and "treating" the food pantry. We look forward to making this a great event for Zion and the Staunton community.
28th Annual Dinner Auction
November 9th, 2019
The 28th Annual Zion Lutheran School PTL Dinner Auction will be held on Saturday, November 9, at the Crystal Ballroom. Doors open at 4:00 pm beginning with the silent auction, which will run throughout the evening. Dinner, catered by R & B's, will be served buffet style from 5:00 - 7:00 pm. Beginning at 7:15 pm, the oral auction will include plenty of great Christmas gift ideas for everyone in the family. Adult Tickets are $20.00 each and children grade 8 and under are $10 each which includes dinner, drinks, and auction admission. Children 3 and under are free. You may also buy and reserve a table of 8 for $140. Tickets may be purchased at the church or school office. Please come support the PTL and start your Christmas shopping early by attending our 28th annual Dinner Auction!
From the Desk of the Prinicpal
10/04/2019
As a teacher, administrator, or even a parent, you never know when a teachable moment will arise. The goal is when they do, roll with it.
During the sand pit removal on the east side of the school building, I ran across some interesting finds. The sand needed to be removed to provide a solid base for the gravel lot that is to go in that spot. I generated a hypothesis that the site was the buried remains of building materials for the school. That would put the artifacts at 1910 or prior. My students seemed intrigued. I set a plan into action to use an archaeological dig as a crosscurricular lesson. Students will have Math, Composition, and Art assignments based on our dig. The students had a blast.
Here's the bonus!
WE FOUND....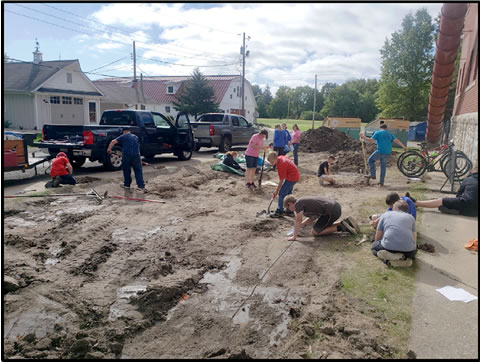 Well, you'll have to wait to hear about our findings and conclusions, but I will say this... My hypothesis was proven false.
Stay tuned.
Mr. Manning
Congratulations Zion Baseball Team!
2nd Place, Lutheran Conference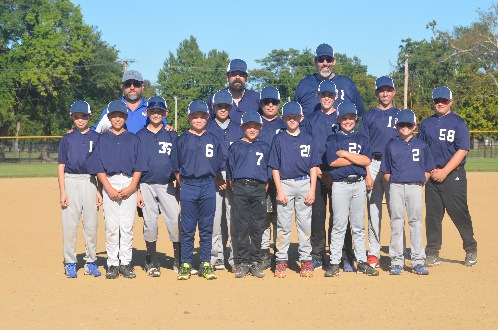 Congratulations to the small schools boys baseball team on their 2nd place finish in the Lutheran Conference!! We are so proud of our Zion team members: Ethan Rantanen, Ethan Sharp, Zander Machota, and Braden Pfeiffer. Congratulations also to Mr. Manning and Mr. Secoy on a great season! Pictured is the whole team (including players from Prairietown and Litchfield).
Congratulations Lady Panthers!
2nd Place, Belleville D Tearm Volleyball Tournament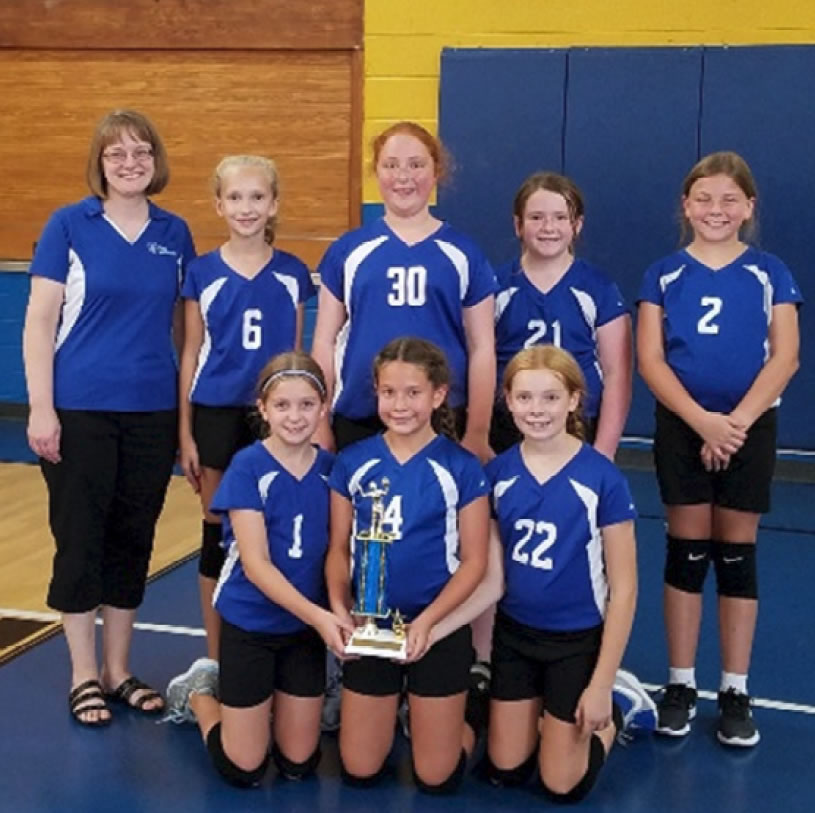 Congratulations to our Lady Panthers volleyball team on their 2nd place win at the Zion, Belleville D Team volleyball tournament on September 21! Team members pictured are: (Top row) Molly Schulmeister, Livia Crouch, Hailee Henke, and Mattie Marburger. (Bottom row) Katelyn Meade, Sophie Bond, and Anna Machota.
Way to go, girls!
Desks for Sale
Zion Lutheran School is selling desks that are no longer needed in our classrooms... Some of these are like new and are first come, first served. These retail new at over $250 each but are available for $50 each through Zion. Please email david.manning@zion-school.org if you would like to arrange a viewing or purchase. There is no limit to the number you can purchase.
View Latest
Panther Paws
10/10/2019
Log in to Ren Web

Upcoming Events at Zion Lutheran School
10/11/19 - No School
10/14/19 - No School
9/27/19 - Trunk or Treat
11/9/19 - Dinner Auction
12/6/19 - PTL Gift Shoppe
This week at Zion Lutheran School
NO SCHOOL
Peoria VB Tournament
NO SCHOOL
6:00 A Team VB Conference at Holy Cross
Little Italy's Pizza Night
End of 1st Qtr.
Parents vs. Players Family VB Night at 6:00