Zion Lutheran School -
News & Events
---
Zion's Preschool and Kindergarten
We offer a 3-year-old preschool class which meets from 12:30-3 on Tuesday and Thursdays. We also offer two options for 4-year-old preschool. Our 4am class meets Monday-Friday from 8-11:20am and our 4pm class meets on Monday, Wednesday and Friday afternoons from 12:30-3pm. Children must be 3 on or before September 1, 2022 to be eligible for the 3-year-old class and 4 on or before September 1, 2022 to be eligible for the 4-year-old class. Full and part time daycare are also available for preschool age students.
Registration forms for Preschool were distributed at the open house along with the registration schedule. Registration will take place on Tuesday, April 5. Preschool Registration for new Preschool students:
6:00pm-6:30pm - Members of Zion
6:30pm-7:00pm - Anyone using full time daycare
7:00pm-7:30pm - Open Registration (anyone who did not fall in the first 2 categories)
Zion offers a full day Kindergarten program with before and after school care available. Children must be 5 on or before September 1, 2022 to be eligible for Kindergarten. Registration forms for Kindergarten were available at the open house. Registration forms for Kindergarten must be turned into the school office by Friday, April 29. If you have any questions regarding open house or registration please email Pam Kleckner at pam.kleckner@zion-school.org or call the school office at 635-3060.
ZECEC Daycare Rates
Full Time daycare - $130.00 per week. (This includes preschool, daycare and hot lunch.) New Rate Effective-May
Full time means that your child attends daycare Monday-Friday. Parents who choose full time daycare are billed $130.00 per week for the duration of the school year including holidays or days your child does not attend. You will only be allowed one time during the school year to change from full time to part time or part time to full time.
Part time daycare - $30.00 a day for over 4 hours, $15.00 a day for under 4 hours. Lunch and preschool tuition is NOT included in part time daycare rates.
New School Visitor Policy
Any person visiting Zion Lutheran School from 6am - 6pm while school or daycare children are present must report to the office or daycare desk for a visitor sticker. All visitors staying in the building must sign in and out of the log book in the office.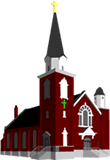 Zion Lutheran Church
311 South Elm Street
Staunton, Illinois