Zion Lutheran School -
News & Events
---
From the Desk of the Principal:
May 20th, 2021
Dear Zion Families,
What a wonderful last week of school. Zion was buzzing with joy and the anticipation of summer. We had four graduation ceremonies! We will miss our 8th graders immensely, but we are excited to see what God has in store for them.
Thank you to all of the parents who volunteered this week! Game day was a huge success, along with our AR celebration.
Thank you to all of our families for making the year such a success! You truly do make our jobs easy, better, and so joyful!
In His Service,
Jamie Crouch
Zion Lutheran School Principal
Vacation Bible School, 2021
July 19th thru 23rd
Save the date! Vacation Bible School is coming to Zion July 19-23, 2021 from 9am to 11:30am each day.
We are planning for an in-person VBS this summer, following CDC recommendations for safety. Vacation Bible School is open to children ages 3 thru entering 5th grade. Older children are welcome to volunteer as helpers. Registration forms are now available in the back of the church or download below. They can be returned to the church or school office or directly to Rachel Mosser (rachel.mosser@zion-school.org).

We are also looking for teen and adult volunteers for the week. Please contact Rachel Mosser by email or by phone (618) 363-5700 if you would like to volunteer! Thank you!


ZECEC Daycare Rates
Full Time daycare - $130.00 per week. (This includes preschool, daycare and hot lunch.) New Rate Effective-May
Full time means that your child attends daycare Monday-Friday. Parents who choose full time daycare are billed $130.00 per week for the duration of the school year including holidays or days your child does not attend. You will only be allowed one time during the school year to change from full time to part time or part time to full time.
Part time daycare - $30.00 a day for over 4 hours, $15.00 a day for under 4 hours. Lunch and preschool tuition is NOT included in part time daycare rates.
School Janitor Position Open
Zion is seeking a School Janitor. Part-Time with scheduling flexibility. Hours are 5 hours per day/25 hours a week. Hours may be broken up or split between multiple people. Some work could be done during school hours, but most done before or after school. Start date is 5/17/21. Inquire at jamie.crouch@zion-school.org job description and duties. Please submit applications and resumes to jamie.crouch@zion-school.org. Applications are available in the church or school offices 635-3060.
Summer Events at ZLS
District Meet, Belleville
R&Bís Fundraiser
Summer with a Purpose (S.W.A.P) Begins
Zion Chic-Fil-A Fundriaser
PTL Meeting, 6pm
Zion VBS
ZLS Final Registration
Zion Family Campout
1ST DAY SCHOOL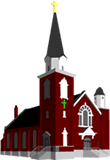 Zion Lutheran Church
311 South Elm Street
Staunton, Illinois