Calendar of Events
---
May 17 - Last Day of School
May 18 - Little Italy's Fundraiser Night
May 22 - Pastor's Retirement Day, 9am
May 24 - R&B's Restaurant Fundraiser Night, Flyer Needed!
May 29 - Youth Group Family Day at the Ballpark - Cardinals vs. Brewers 1:15pm
June 24-26 - Staunton Homecoming - Zion Fish Stand
July 9-13 - National Youth Gathering in Houston, TX
July 25-29 - Vacation Bible School
July 31 - Outdoor Service, Fireman's Park
August 20 - Zion PTL Golf Tournament, Timber Lakes
See home page and school page for more information on events
for more information on dates and events, visit Zion on Facebook or join Zion's Google Groups for news by email, messages and more!
Staunton Dairy Queen & Zion Lutheran PTL "FUNraiser Night" are on the
1st Monday of the months, from 5 pm - 9 pm.
Bring in a Zion flyer, available at the church school office or on our Zion PTL and Zion Lutheran School Facebook Page, or download
HERE
and order any item from the menu and Dairy Queen will donate 20% of the sales back to the Zion PTL. Take the night off from cooking dinner or come out for dessert and join us in supporting our students at Zion.
Little Italy's and the PTL are teaming up for fundraiser nights on the 3rd Wednesdays of each month. Mention "ZION" when ordering! Save all proof of purchase tags and turn them in for credit towards free pizzas for the last day of school!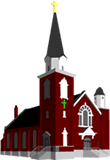 Zion Lutheran Church
311 South Elm Street
Staunton, Illinois