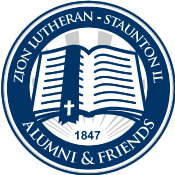 Zion Lutheran
Alumni & Friends
"Train a child in the way he should go, and when
he is old he will not turn from it."
~
Proverbs 22:6
YOU CAN MAKE A DIFFERENCE, YOU CAN HELP!
About Alumni & Friends
Zion Lutheran Staunton Alumni & Friends is not a new organization but an established organization that has been dormant for a few years. It is an organization made up of alumni who are individuals that have graduated or been confirmed at Zion. The organization also includes the friends of Zion who support the church and school. These two, the alumni and the friends, work together to make Zion a strong organization.
The mission of Zion Lutheran Alumni and Friends is to support the growth and strengthen the ministry known as Zion. Our goal is to help maintain the church and school property, provide scholarships to graduating high school seniors that graduated from Zion, maintain an updated curriculum, and to provide funds to make the tuition affordable for all our members who want to send their children to Zion Lutheran School.
Do you realize that Zion Lutheran School is the only Lutheran School remaining in Macoupin County? We are very proud of the fact that our Zion Church family supports our school and we want to continue to provide a Lutheran education for generations to come.
As you think of your years growing up in the family of Zion, how many times have you looked back and thought, "remember when?" The memory may have been of a pastor, favorite teacher, or friend you knew you could always count on. Maybe it was a confirmation class, singing in church, or your role in the Christmas program. Or maybe it was playing basketball, running track, cheering for the Panthers, or sliding down the fire escape. God provided you that family and the means to grow in your Christian faith and education.
We hope to continue to let God work through us to maintain our mission of support to the Zion Lutheran Church and School through monetary gifts, time and talent. In doing so, the Zion family will try to do as the Bible instructs in Proverbs 22:6,
"Train a child in the way he should go, and when he is old he will not turn from it".
Thank you for your consideration and please don't hesitate to contact us with any questions.