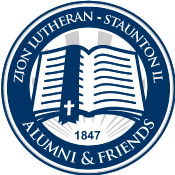 Zion Lutheran
Alumni & Friends
"Train a child in the way he should go, and when
he is old he will not turn from it."
~
Proverbs 22:6
YOU CAN MAKE A DIFFERENCE, YOU CAN HELP!
Zion Alumni & Friends
Think of a favorite teacher, friend, or pastor. Recall your confirmation class, Christmas program, playground escapade. As a Zion Panther, you can probably remember details about playing a sport or about a particular teacher.
If you attended Zion, even if it was only for a short time, you were impacted by its ministry and people. You are part of its legacy—and a critical part of its future!
Zion Alumni & Friends supports the growth and missions of Zion Lutheran School. Established by individuals who graduated from ZLS, who were confirmed at Zion Lutheran Church, and friends, its purpose is to:
Strengthen the ministries of the church and school
Help maintain church and school property
Provide scholarships for Zion alumni
Maintain an updated curriculum, and
Provide funds to make Zion Lutheran School affordable for all members
God provided you with a special Zion family and with the means to grow in your Christian faith and understanding. We strive to continue to let God work through Zion Alumni & Friends to maintain our mission of supporting Zion Lutheran School and Church through monetary gifts, time and talents.
Please support our mission by liking Zion Alumni & Friends Facebook page, email [email protected] to add your email to receive our newsletters and information on the Annual Fundraising Drive and join us for our monthly meetings on the 4th Thursday of each month at 7 pm in the Parish Center.
The 2019/2020 Zion School Theme is: Joy:Fully Lutheran 1 Thess. 5:16-24
Rejoice always, pray continually, give thanks in all circumstances, for this is God's will for you in Christ Jesus. Do not quench the Spirit. Do not treat prophecies with contempt, but test them all; hold on to what is good, reject every kind of evil.