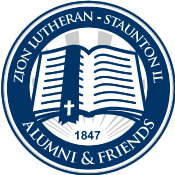 Zion Lutheran
Alumni & Friends
"Train a child in the way he should go, and when
he is old he will not turn from it."
~
Proverbs 22:6
YOU CAN MAKE A DIFFERENCE, YOU CAN HELP!
Want to keep up-to-date with Alumni & Friends? Become a member to receive future newsletters and get involved in our mission to help Zion and its students and congregation.
February 2014
Happy New Year!
Having a Happy New Year? Zion Alumni and Friends has already set goals for 2014. The first is to keep you more informed on the organization's activities and accomplishments. Another is to increase our membership by enlisting the help of those who have already joined.
We welcome all ages! Our hope is that with the experience of those from the past and the knowledge of those in the present, we can continue to support the family of Zion Lutheran Church and School in the future.
Membership Drive
Would you be willing to help expand our membership? No meeting attendance is necessary. Just go to
zion-luth.org/alumni-and-friends
to join! You will then be added to our mailing list for information and updates. And please, pass along this email to your family & friends and help Zion's growth in Alumni & Friends.
Managing God's Gifts for His Glory in 2013
Supporting the Church and School with the following:
$12,000 --- Church General Fund
$6,300 for School IPads for textbook replacement
$2,500 for the Church Decorating Fund
$2,500 to replace the stove in the kitchen
$850 Refrigerator replace in occupied church house
$500 for the 2013 Graduating Senior Scholarships
Other contributions were school yard signs, donations to the 8th grade class trip, parade handouts, and monetary donations to Troop 34 Eagle Scout Project - Michael Meyer. Assisting other organizations in the church was also accomplished.
We are thankful to everyone who contributes.
Annual Zion Dinner Auction
This is our main fundraising activity for the year. It is scheduled for the Saturday before Thanksgiving. The event takes on a holiday atmosphere with Christmas decorations and the auction of Christmas trees and wreaths. Of course, it is not limited to that. This is a good time to bid on all our silent and oral auction donations to help you complete your Christmas shopping. Please mark your calendars for this year's Dinner Auction, November 22, 2014.
By joining Alumni & Friends,
You will receive our quarterly newsletter and help Zion Lutheran School grow and develop with your contributions.
In addition, your membership will help provide support for the mission of Zion Lutheran Church and School. More particularly, it will enhance the Zion Campus; developing the curriculum of both the Christian Day School and the Sunday School Program, and assist in spreading the gospel of our Lord Jesus Christ.
Please Join Today!
Join Alumni & Friends
For more information, Contact Brian Bond at 618.791.2300